When I look at all those new products beauty companies came up with lately, I get the feeling that March and April are going to be all about glowing and shimmering - on the face as well as on the eyes. I've picked my five products that I am excited for.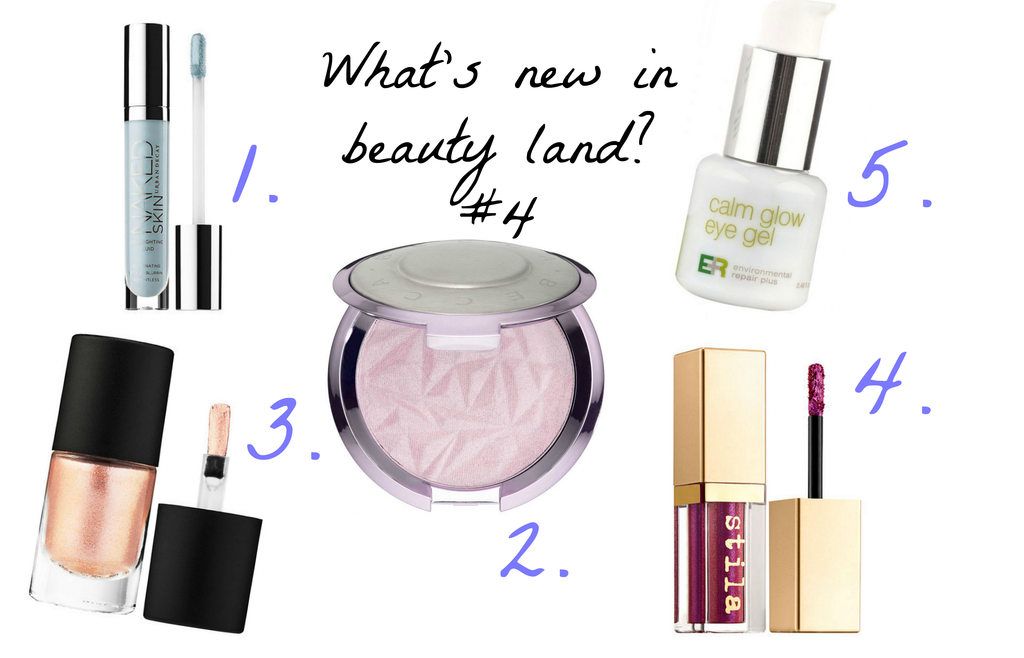 #1 Urban Decay - Naked Skin Highlighting Fluid
I've always been a fan of a pressed highlight because of my combination skin but since I was playing with my very old highlighter from
So Susan Cosmetics
I recognized that I enjoy this type of luminizer as well because I can dose the amount better and if I've used too much I can undo it by going over with whatever is left on my foundation brush. I'd love to try
Skywalk
(blue),
Luminous
(champagne with gold iridescent shimmer) and
Fireball
(peach) since I already own
Aura
in pressed form.
#2 Becca - Shimmering Skin Perfector® Pressed- Prismatic Amethyst (limited edition)
After using Champagne Pop and Prosecco Pop I fell in love with Becca and purchased the Scintillant Embelliseur from their Skin Perfector Range, which I still haven't used on a regular basis yet. So when I saw the swatches of their new baby it was clear to me that I need to get it asap, before it's gone. It's described as 'a creamy, highlighting powder with duo-chrome pigments to impart a captivating light effect that transforms as you move […] Unlike traditional pressed powders, this one-of-a-kind formula blends pigments with liquids, to create an unparalleled, creamy feel that applies like seamless silk and never cakes.'
#3 Make Up For Ever - Star Lit Liquid
Due to my oily lids I have to be careful which formula eye products have; also a primer is a must for me. So I am always careful when choosing a liquid eye color. Since MUFE is one of my favorite makeup brands that have never disappointed me and
Tati
also recommended the liquids I wanna give them a try. Pro: if they don't work on my eyes I can use them as a highlighter for the cheeks.
#4 stila - Magnificent Metals Glitter & Glow Liquid Eye Shadow
Before we're leaving the highlighting and shimmer section I have one more glowing product to come. I saw
Jaclyn
using the gold color of the new liquid eye shadows from stila and I was very impressed because of the result. She applied it over a pressed eye shadow and it did not ruin her look or started crumbling, which happens often. In my case I would skip the decent colors and go for
Violet Vixen
or
Rose Gold Retro
.
#5 Coola - ER+ Calm Glow Eye Gel
Even if I adore my eye cream from
Origins
it doesn't have the cooling effect that I sometimes need, especially when it's hotter outside. A great alternative to this could be the glow eye gel from Coola, as I love their make-up setting spray (coming soon). According to the description it is lightweight, oil-free, soothing and suitable for sensitive skin too.